S L Wagstaff
Local artist based in Mold, North Wales
Pastel or Pencil Commissions taken for Portraits, Pets and Landscapes drawn from your own photographs. Our Commissions page details prices, lead times, how to order & make a payment online.
Original artwork, high quality prints & step by step guide books can be purchased via our Artists Shop page, a regularly updated selection of which is also displayed on my facebook page.
If you're interested in learning to draw, why not join one of my forthcoming art classes?
I have a comprehensive list of art supplies available for purchase and Gift Vouchers are also available. Please contact me for availability and pricing.

Get in Touch
Newsletter Subscribe
To receive notifications directly to your inbox regarding upcoming art classes, exhibitions, artwork for sale and more, sign up to our mailing list below.
Sign-up opts you into our mailchimp mailing list. See our Privacy Policy for details on data use.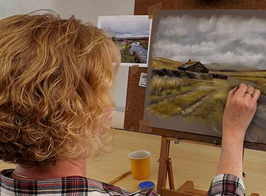 About Sharon
After growing up with a love of painting I started selling my work shortly after moving to Wales in 1993. What started out as a hobby very quickly became a full time occupation. I work mainly in Pastel, drawing a variety of subjects such as Landscapes, Portraits and Animals. When drawing landscapes I favour mountain scenes where I aim to capture the play of light on the landscape. When drawing animals I like to capture a feeling/look in the expression and posture of the animal. My animal pictures have been accepted into the National Exhibition of Wildlife Art annual exhibition for the last 6 years.
Initially I started out by doing commissions mainly of peoples pets or family but recently have concentrated on work for exhibitions. I have exhibited and sold work in various locations including the National Exhibition of Wildlife Art, Ludlow Castle, The Castle Park Arts Centre, Frodsham, The North Wales Open and many local exhibitions.
In 2012 I joined forces with other local artists to form the Cilcain Artisans in order to exhibit each year as part of the Helfa Gelf Art Trail. As a group they we can offer a truly unique experience to the public who get to see artists of varying style and techniques together in one place.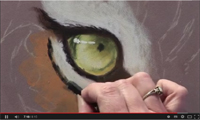 In 2015, I was invited to go to the SAA headquarters in Newark to film a short demonstration using Conte Crayons 'A Tiger's Eye' (available to watch on Youtube, click image to play).
More recently, I was proud to hold a Charity demonstration for North West Cancer Research which raised a worthy £1150 on the day and another £200 since from DVD proceeds. I love to pass on my experience and knowledge to others which I do by running art classes in Mold plus visiting many local Art groups across North Wales, Cheshire and the Wirral. If you're interested in attending, please visit my art classes page or contact me for dates or you can get in touch via my facebook page.
S L Wagstaff BA(Hons) - Memberships/Affiliations:
Professional associate of the Society for All Artists (SAA)
Association of Animal Artists and the North Wales Society of Fine Art
Flintshire Visual Arts & Craft Network
Classes/Workshops