Art Classes and Workshops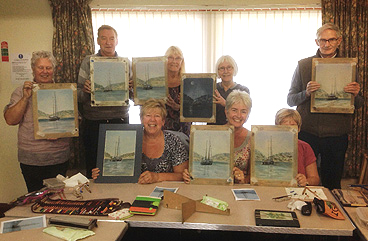 Art Classes
With regular demonstrations and step by step, simple easy to follow instruction, learn how to create different effects and produce a variety of pictures. I regularly run pastel classes for landscape, portrait and pet portraits through the year but also run occasional pencil sketching, pen and ink and beginners watercolour classes.
Mold Methodist Church
Pastel classes are held on Mondays, Wednesdays and Thursdays in Mold Methodist Church throughout the year covering a variety of subjects. They run for sets of either 4 or 5 weeks during school term times. There is a maximum of 10 people in each class.
Classes on Monday 10.30-1pm and Thursday 1.30-4pm cover a variety of pictures from landscapes to still life. I work using a step by step method, showing you how I create the pictures and use the pastels.
Classes on a Wednesday 10.30-1pm or 1.30-4pm vary during the year between Portraits and Animal Portraits. During the 5 weeks you will work on building up a portrait. I show you how to achieve the colours and effects which you will then put into practice.
All materials are available for you to use in class.
Craft Shop, Daleside Garden Centre
This class runs once a month, usually the first Friday from 9.30-12.30pm. Maximum 8 people. There is no set subject or medium. People bring along their own reference material then with my help and guidance decide where to start your drawing, how to achieve the colours, effects and textures.
Booking is essential for all classes.
I send out details of the latest classes 3 or 4 times a year. If you would like to be included in this mailing list please contact me with your email address and phone number.
For more information or to book your place, please telephone Sharon on 01352 758471 or email sharon@slwagstaff.co.uk
Exhibitions/Demonstrations 2021
Clwydian Creatives Art Trail - Cilcain Artisans
I will be exhibiting with the Cilcain Artisans in Cilcain Village Hall (CH7 5NN) on September 10th, 11th & 12th. We'll be open 11-5pm each day. It's free to visit.

This year I will be demonstrating my Pastels with water techniques. This is a quick fun way to use pastels, powder and smudge free. Along with some new pictures I will have some tuition DVD's, Pan Pastels, Conte and Pastelmat packs of paper on sale. You can download a leaflet and map here: CCAT 2021 Leaflet (opens a new window to Google Drive)

Check this page regularly for details of upcoming events or to receive a notification directly to your inbox, subscribe to our newsletter below (you can unsubscribe at any time).
Subscribe to our mailing list
Sign-up opts you into our mailchimp mailing list. See our Privacy Policy for details on data use.